Our Venues
Harvest is committed to creating iconic regional pub experiences. We pride ourselves on being part of each community where we lay our roots as hoteliers and operators. We welcome you to search for the town nearest you or that you may be travelling through, to find one of our pubs, where you are guaranteed exceptional quality.
Where to find us / Regions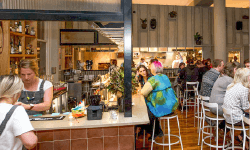 The Pig & Tinder Box – Tamworth
Situated in the stunning historic bank building on bustling Peel Street, this is the place to experience incredible cocktails, craft beers & boutique wines. Paired with shared plates and wood fired pizza creations, watch the world go by on the balcony or laze in the sun in our outdoor seating.
    RESTAURANT, BAR
Courthouse Hotel – Tamworth (Launching Mid 2020)
This historical and hallmark country pub in Tamworth right at the entrance to town is currently undergoing a complete refurbishment by Harvest Hotels. Check our Check our facebook page for updates and see this incredible transformation to become the best pub in town.
    BISTRO, SPORTS BAR, PUBLIC BAR, TAB, SCREENS, ATM